Even if you haven't heard of us, you know us
We are B. Dyson Maritime
Our team was founded by Lazard Brothers Maritime Advisory, Lazard Freres Convertible Advisory and Lazard Freres Convertible Sales & Trading colleagues.
You know us because you have seen our work.
We pioneered the public convertible exchange business in the 2000s and led the market in the private convertible exchange business at Lazard through the 2010s.

We refinanced CBs for Euronav, Scorpio Tankers and DHT Holdings, quickly, confidently and efficiently. Each time with low cost highly flexible new CBs. Each time with terms and provisions tailored to meet the requirements and circumstances of the client and the state of the shipping cycle.
We want you to know, too
Today, we have innovative strategies to access new capital and reduce leverage, designed for today's maritime industry in today's market cycle.
Our Mission: Helping clients achieve extraordinary capital markets success with simple and innovative solutions
We create smart solutions for clients by understanding exactly what client needs are and what investors will do, even if it hasn't yet been done by others.
We pursue ideas for clients with these characteristics:
A very large strategic or cost of capital advantage over ordinary solutions.
The ability to seamlessly execute with our highly skilled team of senior advisory and sales and trading professionals.
A management team interested in evaluating unique opportunities and the willingness to act away from their established banking relationships.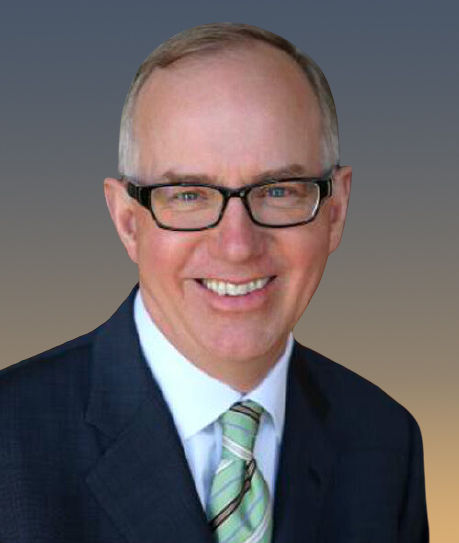 Brendan Dyson – Managing Partner
Brendan has 40 years on Wall Street focused entirely on convertible securities and related markets.
Brendan spent the first third of his career as a convertible arbitrage trader on one of the largest merger arbitrage desks in New York, the second third in San Francisco where he founded and built a market leading convertible underwriting business focused on raising growth capital for emerging technology and biotech clients, and was most recently a partner at Lazard Freres, where he pioneered the private convertible exchange business and led over $10 billion of sole managed transactions.
Brendan founded B. Dyson Capital Advisors to solve today's capital structure and capital markets challenges with the creative application of one of the most powerful concepts in corporate finance, the debt conversion feature.
Brendan has a BS in Finance, University of Connecticut, and MBA in Finance, New York University.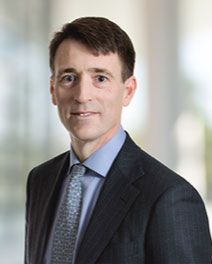 Aran Williams – Managing Director
Aran has 30 years in investment banking, focusing on M&A, restructuring and financing in public and private markets, most recently at Lazard in the shipping team.

Aran began his career with S.G Warburg in London in international debt restructuring with the Paris Club, and European public corporate takeovers and defense. He spent a year as a fund manager in Moscow, then moved to Stockholm, where he worked for Lazard in M&A.

Aran focused on the maritime and offshore sectors, first in Scandinavia, and post 2008 as part of the global sector team restructuring maritime company balance sheets. Since his time at Lazard, Aran has collaborated with Brendan Dyson on capital markets transactions, including CBs for Euronav, DHT Holdings and Scorpio Tankers.

Aran has a BA joint honours degree in French and Russian from Durham University.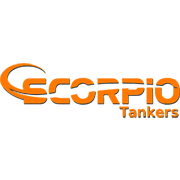 $203,500,000
Private Convertible
Debt Exchange
Maturity Extension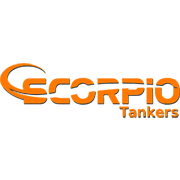 $200,000,000*
Premium Par
Convertible DebtMaturity Extension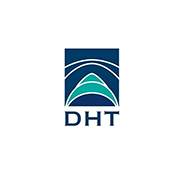 $125,000,000
High Premium
Convertible Debt
Maturity Extension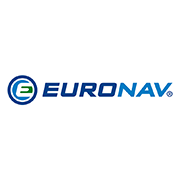 $125,000,000
Private European
Convertible
Debt Exchange
Maturity Extension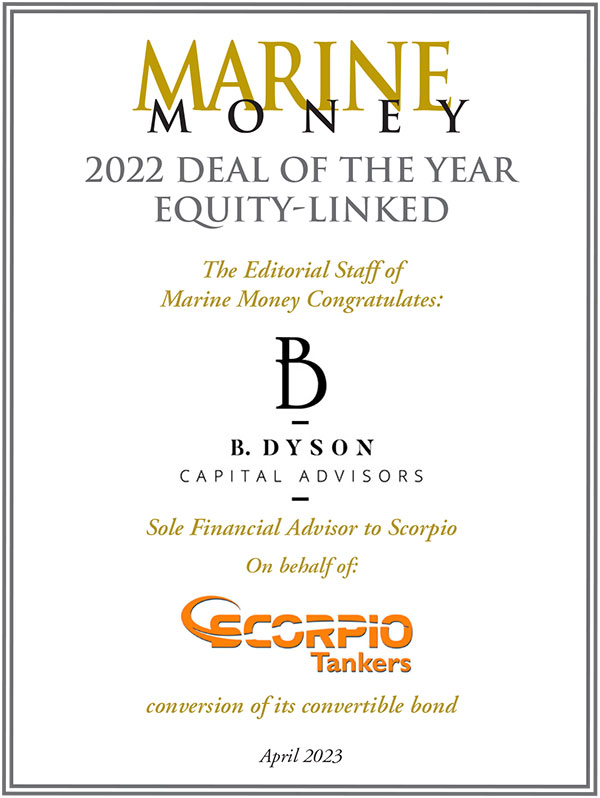 "B. Dyson Capital helped Scorpio to design and execute a solution that looked artful at the time, but now looks downright genius.
They were able to exchange their existing bonds for new bonds that maintained the low 3% cash coupon by accreting the rest of the interest as principal and maintain the very high conversion premium (100%). The Scorpio deal team was also able to insert an unusual feature known as a "issuer's redemption option." This clause gave them the right to force the bondholders into equity at 125% of the conversion price, thereby putting a ceiling on the dilution.
In retrospect this was an extraordinary deal. But even when you look past the drama of this unique situation, it is also a powerful reminder that utilizing the wide range of capital markets products available in the marketplace can create enormous value in a highly cyclical and volatile industry like commodity shipping."